Netherstorm Miniatures are Here!
     This past weekend at Marmalade Dog in Kalamazoo, Thunderhead Gaming introduced the first miniature for the Netherstorm RPG.  The Kentrona Gladiator is works great for a Netherstorm player character, or as an encounter in other role-playing systems.  Within the next couple of weeks, we will start a crowdfunding to produce multiple miniatures for all the player races.  If that goes well, we can move into the creatures and encounters that are unique to Netherstorm and Thelal.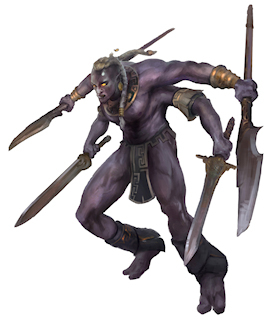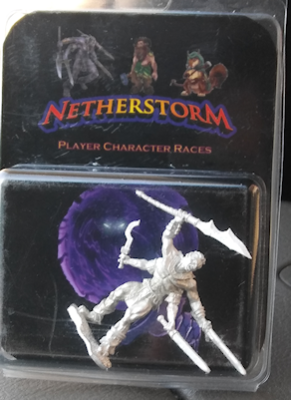 Convention schedule  now forming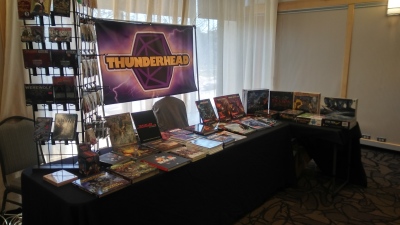 We are beginning to put together the Thunderhead convention schedule for 2018.  Below are the conventions we have locked down for the rest of this year and leading into next year.  If there are any conventions in the Midwest region that you would recommend to us, please contact us at:

Midwinter Gaming Convention, Milwaukee, WI (Jan. 11-14, 2018)

In addition to a dealer's table, we will be running the following games of Netherstorm.  We may also run a few sessions of the Thunderhead 1-Off System, if we can get them scheduled:

Netherstorm: Lair of the Draugr
When the wall of a a friend's warehouse caves in to a previously unknown tunnel complex, he needs your help in finding the source of the strange noises coming from within. Come create a character and play in the Netherstorm RPG system
Netherstorm: Release of the Settlers
A group of settlers sent out by the city-state of Wavecrest have been taken in the grasslands by a tribe of centaurs. Whether it was by diplomacy or by force, it's up to you to secure their release. Come create a character and play in the Netherstorm RPG system.
Below are conventions we are planning to attend, but don't have locked in, as of yet.
​

BashCon, Toldedo, Ohio (Feb. 16-18, 2018)

A small but outstanding gaming convention.  If you can make it, it is well-worth your time.

Cleveland Concoction, Cleveland, OH (Mar. 9-11, 2018)

This would be our first time at ConCoction.  Please feel free to email us with any feedback.

DPL Wilder Branch Mini-Con, Detroit, MI (Mar. 18, 2018)

A one-day mini-con at the Detroit Public Library Wilder Branch.  We've run gaming panels and games at Detroit Public Library branches in the past, and it is always a blast seeing kids (and kids-at-heart) who've never experienced role-playing games light up the first time they play.  If you can possibly attend this, please come lend your support to a worthwhile cause.

Youmacon, Detroit, MI (Mar. 30 - Apr. 1, 2018)

We are pleased to announce that Denitsa Trandeva, the artist behind Thunderhead's Netherstorm RPG and several other projects, is being flown from Bulgaria to be an artist guest of honor at Youmacon.  As soon as vendor tables are available, we will most definitely be locked in.  This is one of the largest and best anime conventions in the region.  Even if you aren't an anime fan, this convention is one you have to attend at least once.